From 19th to 21st of April, the First World Forum on Urban Violence and Education for Coexistence and Peace was held.
The event was presented by the journalist Pepa Bueno and inaugurated by King Felipe VI together with the mayor of Madrid, Manuela Carmena. Both called on institutions and governments to foster a culture of peace and coexistence as a means to curb the various urban violence.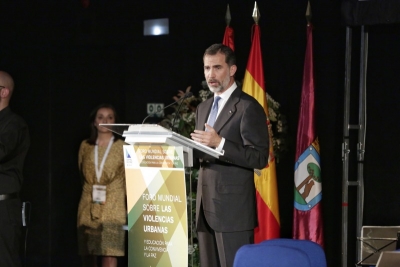 Presentation King Philip VI
This Forum emerged shortly after the attacks and ihaidistas that underwent the French capital in November of last year, like an initiative born of the will of the mayors of Madrid and Paris, Manuela Carmena and Anne Hidalgo.
The World Forum on Urban Violence and Education for Coexistence and Peace is a meeting place between local leaders, international organizations and networks, academia, NGOs and civil society, to discuss, reflect on and create solutions to foster environments Capable of eliminating expressions of violence.
"Violence resides in the heart of those who exercise it. That is why it is necessary to up root it"
Cities are the main meeting and exchange space of our societies, of interaction between people, groups, companies, ideas and values. But also where inequalities are generated and the proliferation of various types of violence.
"What can municipal councils do to prevent violence, how to intervene without being only sanctioning, but rehabilitating" Manuela Carmena
This event is aimed primarily at mayors/local leaders to see what they can do and work together to turn cities into places of peace and coexistence and to eradicate violence.
It is also open to civil society, citizenship, international networks, and all those agencies that can help in this task of obtaining cities in peace in order to generate spaces to share experiences and facilitate the exchange of knowledge. It is important to identify existing violence such as terrorist attacks, racism, xenophobia, violence against women, youth violence, lack of access to education and health, violence in sporting events and in the media, but always emphasizing coexistence, that is, in peaceful responses to conflict management.
The 21st century must be the century of learning to live together in Peace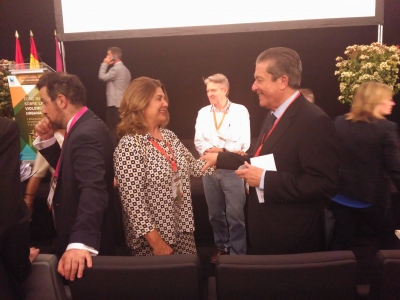 Federico Mayor of Zaragoza greeting María Moreno
The Esperanza y Alegría Foundation wants to collaborate in this great project and for that reason, its president, María Moreno, and Communication and Marketing Manager, Begoña Requeta, were present to obtain information and see how they can offer their help. Also, Thursday, April 20 at 15:00. In Classroom 1 the Foundation will have a workshop: "Sowing a future. From Exclusion to Inclusion". This workshop shows the transition from exclusion to inclusion based on the experience of El Pozo de El Tío Raimundo's youth.