Elementary and Secondary Muthayiar
Panruti
This school, awarded as the best school in Tamin Nadu, for its academic excellence on two occasions, offers pre-primary, primary and secondary education to more than 4,800 students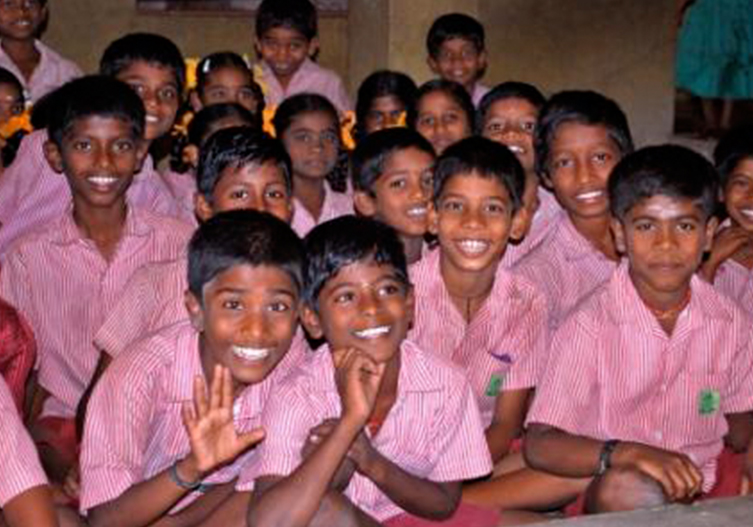 To offer basic education to boys and girls between the ages of 5-14 years old with very few resources.
School reconstructed with successive enlargements in their facilities.
Inauguration of a multipurpose hall in 2013.
The school has 205 pre-primary students, 1190 primary students and 3468 secondary students, making a total of 4,871 students in 2011-2012.
This school, awarded as the best school in Tamin Nadu, for its academic excellence on two occasions, offers pre-primary, primary and secondary education to more than 4,800 students.
The Foundation has financed the construction of the new school (which suffered severe structural damage as a consequence of the tsunami), as well as the successive enlargements. The final project that we carried out was a multiuse hall for when the college needs a place to celebrate activities, assemblies and where the young children can protect themselves when it rains.
Construction of the elementary and secondary school of Muthaiyar was started for children ages 5-17, who before received academic instruction in a type of hut that would be left in very bad conditions after any torrential rainfall. This project is led by the Sisters of St. Anne´s of Tiruchirappalli, who have dedicated 150 years to improving the living condition in this region, which is one of the most underdeveloped regions in India. The children at this school do not only receive an education but also integral learning of values and other criteria that help them be in accordance with the world around them, all while also respecting their own culture, beliefs and religion.