Thursday, June 8th, we celebrated at the Villa de Madrid Country Club our 16th Charity Dinner in India
More than 300 people assisted the event and continued to stand in solidarity with the projects that the Esperanza y Alegría Foundation develops in different countries spread between Asia, Africa, Latin America and Spain.
Among the guests were Princess Nora of Liechtenstein, Ana Botella, Father Angel, Dr. Enrique Rojas and his wife Isabel Estapé, Carmen Lomana, Ramón Gil Casares, representatives of the Real Madrid Foundation, Santander Foundation and many other faces of Society, politics and Spanish companies that once again wanted to show their support for the work of the Foundation.
The ceremonies, directed by Michi Primo de Rivera, began with the projection of a very emotional video in which the projects that the Foundation had been carrying out during 2016-2017 were presented.
A highlight of the evening was the fun auction jointly made by Michi Primo de Rivera and Rafael Dona (owner of the firm "El Capote") of a great American gentleman of his firm, where Rafael with great art was marked a few bids of chest with the garment showing off its taurine strain that got the ovation of the attendants.
It was a magical night, filled with joy and many surprises in which more than 300 attendees enjoyed fun Indian dances, a fabulous raffle of gifts and a wonderful auction of items donated selflessly by companies like Ferragamo, Prada, Carolina Herrera, Real Madrid Foundation, Clarins, Sisley, Green Frog, El Corte Inglés or the fabulous bouquets of roses by Aleia Roses, where the human quality and the solidarity of the attendees were once again reflected.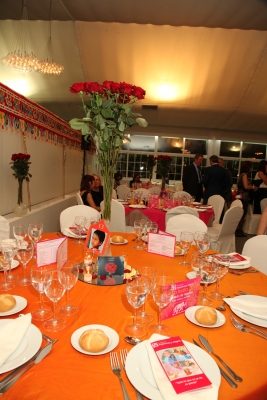 "Without education there is no hope, without hope there is no future, and without future there is no joy"